Top Ten Tuesday is a weekly bookish meme created and hosted by The Broke and the Bookish. More information, plus future topics can be found on this page. This week was 'Top Ten Series I've Been Meaning To Start But Haven't'.

I used to really love book series — some of my all-time favourite books are the Harry Potter books and The Lord of the Rings. The reader gets to keep coming back to that wonderful 'verse and learn more about the magic rules/systems and the interesting characters inhabiting it. Unfortunately, some series don't seem to have been originally planned to be such: the first book contains most of the details and the heaviest plot, and you can see the author trying to stretch it out in the following books but absolutely failing.
Here's hoping the following books aren't at all like that!
Outlander by Diana Gabaldon
Way before the advent of Goodreads, I remember already having my eye on reading Outlander. I think the series was at its fourth or fifth book then, and it was getting recommended on websites left and right. As of late, this series isn't really high up on my list anymore, and I reckon I won't be reading past book two (when did it start going bad again?). But it is summer, and I have a hankering for some good old romance story. Maybe I might just tick off books one and two before summer 2017 ends. Watch this space!
read synopsis of Outlander on Goodreads
The Lumatere Chronicles by Melina Marchetta
This book was recommended to me by a book friend who knows my love for epic fantasy, and who reads YA on the side for a charity (she's putting together a list of books for young boys). I honestly have not heard of it prior to her recommendation, but she is one of those whose recommendations I highly trust. From some of the reviews I skimmed over at GR, they seem to be praising about a very strong-willed female character!
read synopsis of Finnikin on the Rock on Goodreads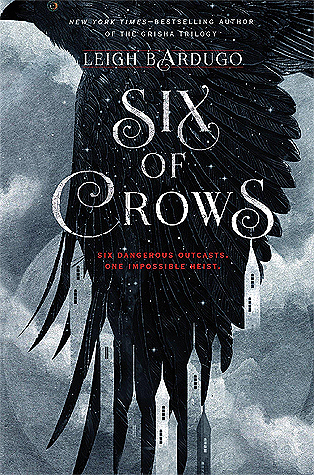 Six of Crows by Leigh Bardugo
I used to devour a lot of YA books, until they got a bit formulaic and filled with tropes. Add to that the realisation that I may be outgrowing the genre (I'm still in slight denial), and this series rates as one of the last in the list of book series I will pick up to try. It is highly praised in the YA community — but then so is V.E. Schwab and S.J. Maas, and I have not been enamoured for long with anything that the two aforementioned authors have written (I loved A Darker Shade of Magic, but lord, it went downhill from there). I am quite reluctant because I don't want to be burned again, but we shall see. At least the series only has two books!
read synopsis of Six of Crows on Goodreads
The Farseer Trilogy by Robin Hobb
There is a group of readers on bookstagram (hi, Shari and Steph) who are avid readers and fans of Robin Hobb, and they actively recommend starting with this series to get a taste of what Robin Hobb has to offer. I've had all three books since last year, plus the first two books in The Fitz and the Fool series, despite not having read any of them! Such is their passion in sharing the Hobb love. I really wish I can finally find the time to read these so I can hopefully join in spreading the love!
read synopsis of Assassin's Apprentice on Goodreads
Shattered Sea Trilogy by Joe Abercrombie
I acquired the first two books in this series through a giveaway. It was part of a group of books that included An Ember in the Ashes which I was curious about but not curious enough to spend money for. I was so glad to have won it because then I would not have been introduced to Joe Abercrombie! I was even more glad when I found out that these books are quite well acclaimed by fantasy lovers, and I know of some female fantasy readers who quite liked them too.
read synopsis of Half A King on Goodreads
Themis Files by Sylvain Neuvel
The first book in this series, Sleeping Giants, came out last year and was highly praised by SFF readers. I tried to read it before the second book, Waking Gods, came out last April of this year, but I have obviously failed. I do prefer fantasy to science fiction, but I do make an exception for the really good ones!
read synopsis of Sleeping Giants on Goodreads
The Golem and the Jinni by Helene Wecker
I am a complete sucker for Asian folklore and will gobble up anything that involves the region. The jinn is from Middle Eastern folk tales, although reviewers are saying this book is a combination of that and Jewish folklore. Another book friend seems to have raved about it, and I vaguely recall someone saying they heard it was good, so I'm all up for trying it. I didn't realise it was part of a series though. The second book is set for release in 2018. I am hoping it isn't one of those where the author is attempting to stretch it to make it a series at the behest of the publisher (there is nothing wrong with standalones!).
read synopsis of The Golem and the Jinni on Goodreads
The Memoirs of Lady Trent by Marie Brennan
This series is making me apprehensive due to it already having five books out. How am I ever meant to catch up?! However, it has dragons! It is also in memoir format (as per the reviews) which, if wielded properly, is always an enjoyable read. The book seems to have slightly divisive reviews though, so I'm trying to avoid them to avoid any preconceptions.
read synopsis of A Natural History of Dragons on Goodreads
Greatcoats by Sebastien de Castell
I have never heard of this series until I saw it reviewed positively by another book blogger at Utopia State of Mind. Apparently, it is remiscent of Dumas' The Three Musketeers which I enjoyed when I read it in my teenage years. I am wary, though — that author photo in GR is only asking to be side-eyed (I'm sorry for being judgemental!), plus most reviews keep heaping praise about hilarious, sarcastic lines. Lately, I find that that seems to be counted as wit but which I personally find as more of a character trait of a try-hard arse (first character that comes to mind is Mia Corvere from Jay Kristoff's Nevernight). We shall see. I will probably try the first book.
read synopsis of Traitor's Blade on Goodreads
Wayfarers by Becky Chambers
This book became popular right about the same time as Sleeping Giants. I took note of both and hoped I'll find my way to reading them sometime. Again, the reason of it mostly being sci-fi is what keeps me away, and even the idea of its similarity to Firefly doesn't make me engage. I wasn't a big fan of Firefly anyway — Malcolm was annoying, and I only wanted to see Gina Torres and Summer Glau (plus Kaylee and the Simon were cute! But too much Mal, ugh). Someone please tell me there is no Malcolm-like character here, or his very boring romantic drama storyline?
read synopsis of The Long Way to A Small, Angry Planet on Goodreads
Let's have a chat!
Have you read any of these books? Share your thoughts, please! Anything I should read pronto? What are the book series to read on the top of your list?